Greetings from Croatia!
All what am I saying is IME (in my experience) unless I say I think
I will talk historically as my experience is that way.
I will skip history and theories, ask if you would like to know.
Length
First thing first I want to discuss is length of wire I use in passive coils (this is harmfully important for passive coils). Active wire length doesn't matter, just activate it that day. The peak to peak time of radiant spike of my zapper is 5 cubits (2,62 m) in PVC isolation (2 e8 m/s), so I used that. The 64 aliquot is 2,45 GHz, so don't put coil near wifi/cellphone (you could try without any harm, just to verify it's not good).
Supercoiling
It might be possible that
http://www.berkanapath.com/radionics/17 ... xperiment/
coil induce problem into minds of some orgonauts, causing me to solve it with supercoiling. Pardon my iconoclasmic self, I borrowed that therm from biology.
Synonyms: (n natural number) n-sc, n-DNA, n-wire for möbius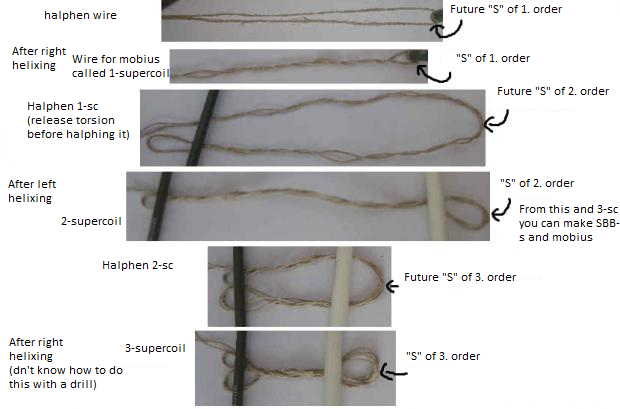 Angle of wraps isn't that important here, the more the merrier (L=µ/4? * d * d/l); what gives something special here is 2-sc wound till triangle (you will se structure forming) hence left and right density of wraps (d/l) are annulled here. Thesis is that this left-right annulation is what reduces skin effect resistance: making high resonant harmonics of 2-sc (till triangle) measurable. So I will dare to call it solar resonator. I only tested this thesis by sunbathing, (regular) light bulb and CRT TV (vibe that destroys orgonite, can be countered with picture of PW) and it is true (IME). Angle of wrapping is somewhat important, try to put drill as high as possible compared to "S" (therm from SBB coil); otherwise you will have more glitches of 2-sc triangle structure.
I think that n-sc (till triangle n-1 times) is stronger active coil than Lakhovski Möbius (LM), but unsure.
Picture of 2-sc (till...):
http://s13.postimg.cc/z7xdwb9ev/IMG_3651.jpg
(Sorry for the pictures)
There are 2 wires, I will talk about that later.
Lakhovski Möbius
Though I found that 2-sc placed anyhow is strong and safe (with precise length or active, not touching cell phone ), I wouldn't be much of a researcher if I would let it stop there. I use 2-sc for this because of above reason. Original schematic:
http://s1.postimg.cc/fzu3lxizz/Lahkovski_mobius.png
Tutorial:
A 2-sc is RL (from right helix we did left). LM will be RLRL (...?). But you can do it LRLR if you like, I don't know why.
Twist wire in one direction (I used to twist "S" of 2. order, that is also good, but it will be wrong when we come to spiralization of coils (twist "S" of 0. and 1. order)). Even it to be a circle. With middle finger and thumb we pres wire and "S". Now we have "scelet" of coil.
We start with right helixing. Angle between scelet and newly wraps are about 45°. That is because we want at least 2 circles with maximum density of wraps. (after 45 there is 70 and that third one. That third is ideal, because density is high, but coil doesn't collapse.). Ideally: angle is constant. We use index finger to create new wraps, while middle and thumb holds beginning of wraps, for first few turns.
coming soon